I've been looking into old used AWD cars as of late and I've come across a discovery. See, I'm sort of an entry-level audiophile of sorts. (just ask my used set of Andrew Jones Pioneer speakers in the basement) So I'm always trying to find a car that came with a decent audio system as I don't want to bother installing head units and replacing speakers in my driveway. Lexus is a big appeal as they really bring it with the Mark Levingston systems and even the old Nakamichi's are alright. In fact, most base Lex stereos from the mid-90s and up are over 200 watts.
But one particular non-Lexus model came in one particular trim with this very particular system.
A bleeding McIntosh! Surely as I recently scoured home receiver choices going from Marantz, to Denon, to eventually settling on my used entry-level Yamaha Aventage unit, I came across many tantalizing images of McIntosh equipment. Not willing to spend the price of my used car budget on a receiver, I naturally passed. But now I can live out my hi-fi fantasies of owning a McIntosh system and for the price of what just a receiver might cost, I can get one that comes with a whole car attached to it.
THIS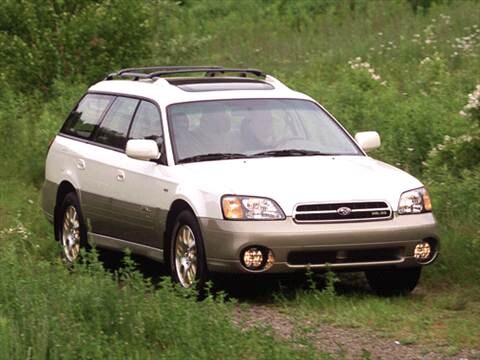 The 2001-2004 Subaru Outback VDC. Yeah, not the shell of steel you'd expect to find wrapped around one of the top names in audio equipment. As far as the hierarchy of its market McIntosh is more like Rolls Royce, whereas Subaru sits more towards Pioneer (Sorry Mr. Jones). But, McIntosh was purchased by Jap audio company Carion in the '90s and Japanese people love their stuff. JDM and Euro market Subarus came with these in all the next-generation models and maybe still today, but here only these particular generation VDC cars were to grace the McIntosh name. Apparently, the marketing degree graduates employed at Subaru decided that most of us tin-eared Americans would pass on this type of system and settle for the grossly inadequate stereos that come in most Subarus.
Now aside from all the gloriousness that is an 11 speaker 200 watt McIntosh stereo, the VDC was a decent car. Although costing big money for early aughts dollars (a $32k Subaru!) this one comes with the RWD bias VDC (Variable Torque Distribution) AWD system in its namesake that, as far as Subarus go, come only 2nd in performance to that of the STI. While the other automatic models use an electronic clutch to transfer power at a 90/10 split, that is, mostly FWD until it's needed (the manual trans models all have a viscous coupler cutting power down the middle at a constant 50/50) the VDC runs a 45/55 division for enhanced performance. This performance orientated center diff was actually first used as an option on the late quirky Subaru SVX, but in Japan only. It was also eventually used on the 08+ Impreza WRX.
Pushing that power around comes from a 212hp 3.0 H6 followed by a 4 speed automatic. No 4 cylinder
or manual was offered in this trim and the other 3.0 cars are all automatic as well and run the companies 90/10 economy focused center diff.
The rest of the car is pretty humdrum, C&D likened it as a 90's car with a 21st century drivetrain. But with stability control, traction control, all-weather package with heated seats, mirrors, rear window, even heated windshield under the wipers, it's a nice winter car to get you around through snow in an ample, thrifty manner all while spinning your favorite hi fi disks in superior used car stereo sound.(You can even avoid any bad storms by tuning into the deck's weather band!) And if anyone frowns at your frumpy old Subaru before getting in, you can regale them in audio delight and just play Pink Floyd's "Time" or anything off the "Aja" album over and over again until they become uncomfortable.
The cost for one of these 4 wheeled self-contained hi-fidelity audio systems can run anywhere from $1500 for a crunchy Craiglist special, up to 5 or 6 for the best examples.
Or maybe $30k if you like to shop on Bring a Trailer.
They get rusty though, not Mazda or Dodge rusty, but rusty. Look for it around the rear wheel wells.